Eating is probably one of the most challenging aspects of having braces. It can be quite painful for the first few weeks once the braces are put on until you adjust to them. No matter the time of year, you may find it difficult to chew certain foods and you may find that foods get stuck in your braces.
New braces can change the way that you chew food and you may notice that you experience some mild difficulties at first. While it may seem like a pain, it subsides over time and to accommodate the awkward feeling, there are some specific foods that you should and should not eat.
Many people that come into our Denver office say that they find chewing food to be most comfortable after about a maximum of three weeks once the braces ate placed in the mouth.
Below, Dr. Shin will cover some of the foods you can and cannot eat and some additional tips that will make eating with braces possible.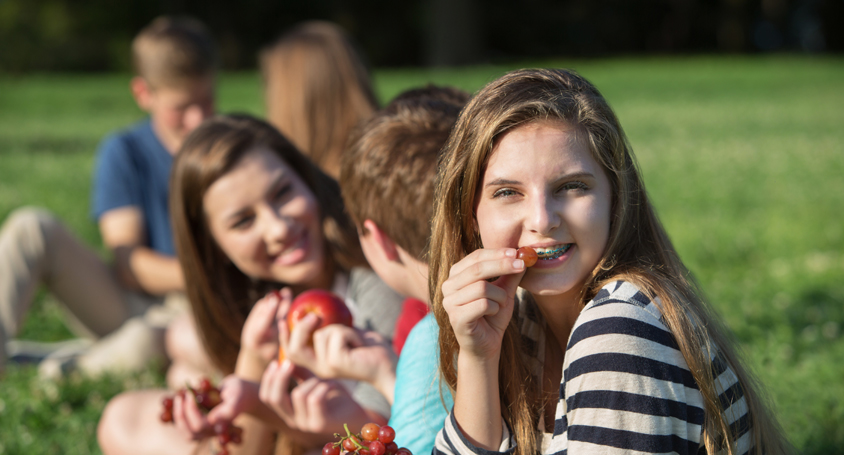 There are plenty of foods that you can eat, but there are many foods that you should NOT eat as well. For the first day, you want to make sure you stick to any type of soft food and avoid hard foods such as raw vegetables, meats, and crunchy items.
Many people wonder if they can enjoy their favorite foods once again and the answer is year. You just cannot eat hard foods the same day that the braces are attached, as it may damage them.
Items to avoid eating at all costs:
Ice – Ice can crush your braces and cause them to break
Tacos, Chips, Corn Nuts, and Pretzels – These crunchy snack foods can lead to the brackets on your braces bending or breaking
Pizza Crust – The hard pizza crust can easily bend the wires on your braces
Nuts – Do not consume nuts as they can become wedged and stuck in your braces
Bubble Gum, Jolly Ranchers, Caramels, and Skittles – Sticky candy such as those listed above can pull out the wires from your braces and help to fee the bacteria that is in your mouth
Ribs – Ribs can knock the brackets off of your teeth, especially if you have to bite into them and pull to remove the meat
Beef Jerky – Too tough for braces and will damage them or rip the brackets off
Corn on the Cob, Apples, and Raw Carrots – While these foods are good for you, they are horrible for braces. If you do want to consume, you should cut them into bite-sized pieces
Popcorn – The kernels can become stuck in your teeth and cause pain
Pens and Pencils – Pens and pencils are too tough on braces and can break them quickly.
Tips for Eating with Braces
Below, you will find some tips about eating with braces from our professionals. Dr. Shin wants you to know that he is here for you every step of the way from the start of treatment and on. Check out these tips:
Always bite with the side of your mouth and do not bite with your front teeth when you have braces as this can lead to damage of the brackets
Always stick to soft foods as crunchy foods can cause problems with your braces. You can enjoy crunchy or tough foods eventually, but definitely avoid them for the first few weeks
Sushi should be cut into bite sized pieces, as you may get the piece in your mouth and find it is too big and your braces are painful – this can lead to choking
Enjoy some cold items such as popsicles and ice cream as they help to dull any pain caused by the braces themselves
Always brush and floss once you eat as food particles can become stuck around the brackets and lead to tooth decay in that area
Slow way down. You do not want to eat too quickly as this may lead to pain in your mouth, especially if your braces are still new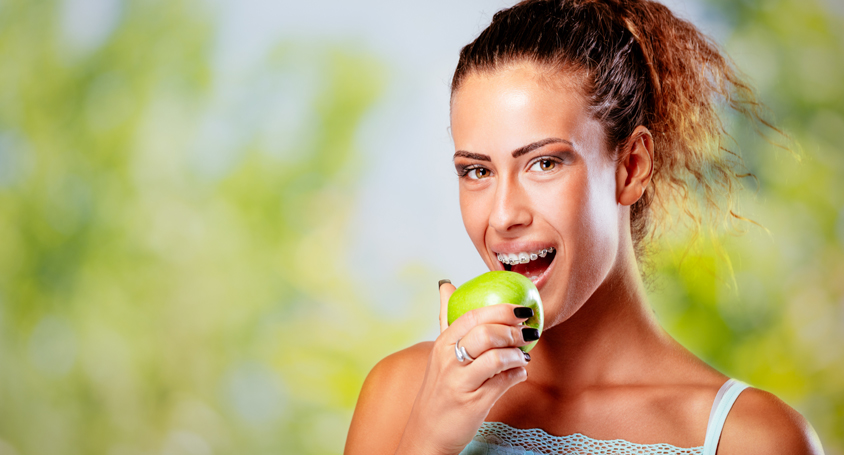 Call Today for an Appointment
Dr. Shin wants you to know that the first few weeks of your braces will be difficult, but after that, it is a breeze. If you would like to discuss your options for braces or your child's options, call C. S. Family Dental today. Our Denver, CO office is equipped with the best in dental technology to provide you and your child with the best care possible. Schedule your consultation with Dr. Shin today.