A deep cleaning is also known as SRP or scaling and root planning. This type of cleaning is often recommended and necessary when Dr. Sohn determines that gum disease is present. Patients who have active gum disease will receive this treatment first to stop the spread of the infection.
Active gum disease will result in deep pocket gums, gum inflammation, bone loss, tooth loss, and even bleeding gums. It is important that you seek immediate dental care if you believe that you may have gum disease.
There are a couple of different stages to gum disease with the first being called gingivitis. Gingivitis occurs when there is a buildup of calculus, which is a hardened form of plaque. When plaque is not removed properly, it hardens and becomes impossible to remove on your own. Plaque and calculus are clusters of bacteria that will continue to cause tissue and bone damage as long as it is allowed to.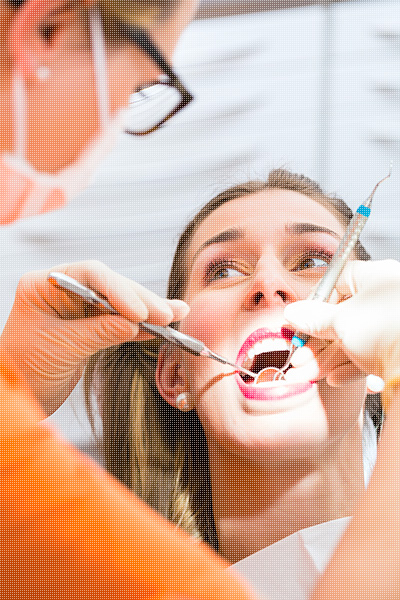 If you leave large quantities of bacteria on your teeth and gums and do not correct gingivitis in its early stages, it will advance to periodontitis, which is a more advanced stage of gum disease. Many patients live with periodontitis and never even know until they are alerted to it by their dental professional.
When you have periodontal disease, your gums are infected and will begin to detach from the teeth. When this occurs, pockets form. The deeper the pocket is, the more advanced the gum disease is. Eventually, your pockets will become too deep and the bacteria will eat away at the bone, thus causing your teeth to fall out.
Patients who require a deep cleaning may have already experienced bone loss. If they have not, they are at a higher risk for bone loss. To determine how much bone loss has occurred, it is important for us to perform an x-ray. This x-ray will allow us to look at the gums, teeth, and surrounding tissues to uncover any issues.
When patients have healthy gums, there will be a visible portion of the tooth beneath the coronal. The whole root of the tooth is buried within the bone. When a partial root is buried in the bone, this indicates bone loss. Once a tooth has become mobile, it is no longer supported by the bone and needs to be removed. If you leave a diseased tooth in the mouth, it will continue to infect teeth around it.
At C S Family Dental, we believe that tooth extraction should be the last resort. We try to heal the gums when possible and treat all other conditions before extraction is recommended.
Your Periodontal Evaluation
When you come into our office for a periodontal evaluation, we will measure the pocket depth around your teeth. Each pocket will be measured individually and will provide us with a good idea as to whether or not you need to have a deep cleaning performed.
Patients require a deep cleaning when they have pockets that are more than three millimeters in size. This does not indicate bone loss, but a deep cleaning can help prevent any bone loss that may occur.
For the evaluation, your teeth will be measured in six different spots. Your dental hygienist will use a small probe. This probe has markings on it and allows your hygienist to read how deep the pocket is. The deeper the probe can enter the gum, the deeper the pocket is.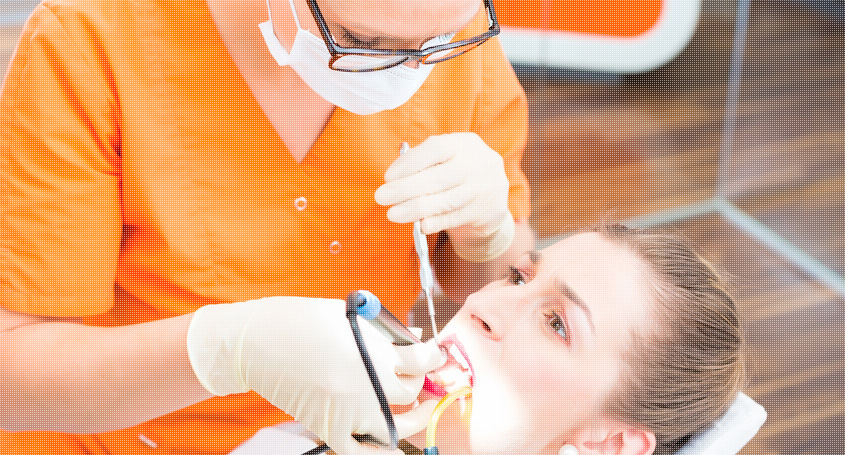 Any patient with a pocket depth of four millimeters or more is considered to have gingivitis. Depths of five millimeters or more is considered to be moderate gum disease. Depths of six or more millimeters is considered to be advanced gum disease. A deep cleaning will be required and your periodontist may recommend further treatment as well.
Numbing of your mouth may be required, so that the hygienist can place the probe into the pocket to get an accurate measurement. The process is not supposed to hurt, but may be uncomfortable, especially if gum disease is present.
When a deep cleaning is necessary, local anesthetic may also be given to allow for the deep cleaning to take place without making the patient uncomfortable. Typically, the lower teeth are done together and the upper teeth are done together.
You will usually need to come into our office for two visits for the cleaning to occur. Each visit is about an hour long. You will be recommended for future dental checkups at shorter intervals than the traditional six months.
Pain medication is not usually provided for the treatment as it does not have any lasting pain or side effects and you will be feeling back to yourself once the anesthesia wears off.
Commonly Recommended Treatments
Peridex
Patients are usually prescribed this medical grade of mouthwash after their deep cleaning treatment to ensure that all bacteria are removed and kept away. This product should be used for at least 7 to 10 days after treatment to prevent any bacterial buildup or gum infection. Peridex is an antimicrobial that works to destroy the surface of the cells and destroy the cell itself in the end.
Arestin
Arestin is a prescription medication that is prescribed to patients who have deep pockets of six millimeters or more in their mouth. This medication is injected into the pockets and will work to combat the bacteria. Each dose consists of a powder that is tightly compacted into a pellet. The small pellets are placed into the gum pockets where they will help your gums re-adhere to the teeth and heal, free from disease.
Schedule Your Gum Disease Consultation Today
If you think that you may have gum disease, now is the time to call our office. Dr. Sohn is ready to take a look at your gums and provide you with the treatment needed to ensure that your teeth and gums are healthy.
If you need to have a deep cleaning, contact C S Family Dental in Denver, CO today to schedule your appointment with us.